Cute Critter Card - Create Simple, Saleable Greeting Cards Using Illustrator Photoshop Techniques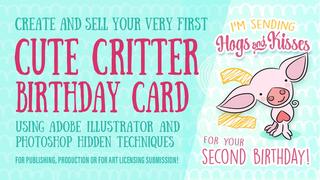 Video: .MP4, 1280x720 | Audio: AAC, 48 kHz, 2ch | Duration: 52m
Genre: eLearning | Language: English | Size: 0,99 GB
Hey there! So you clicked on the link for this class because you have always been interested in designing cards, right? Any artist out there would be crazy to not be trying to sell greeting cards with their art on it. Why? Because it is so easy! You can create an income stream right away! This is my second class in this subject area! My first class, The Secrets of Self-Publishing Greeting cards, focused on the self-publishing aspect. This class will focus on the production of designs for the biggest market in greeting cards: everyday cards. Over 50% of the everyday cards sold are birthday cards, so that will be our focus, and specifically, children's greeting cards.
In this class I will share my step-by-step process for how to concept and produce a saleable greeting card design for a child's birthday with a cute and simple animal motif. You will build skills in several areas including simple Illustrator art brush techniques and Photoshop compositing and finishing. The final step will be to create a smart object mock-up in Photoshop that you can use for presentation of your card for sale on online marketplaces or your web site, or to present to greeting card companies! I even have some cheats to get this done even faster! The project files will include a mock-up I produced and that you are welcome to use for free.
In my course, you'll gain know-how in four main concept areas: Simple Illustrator brush creation, Photoshop layers and layer effects, Photoshop brush use to create simple backgrounds and compositing, and finally, Photoshop mock-up creation with smart objects!
Specifically, in this class, you will learn.
• how to come up with your cute motifs
• how to import the drawings and trace them in Illustrator
• how to create one simple brush for the inking in Illustrator
• how to make adjustments to this brush
• how to convert Illustrator line art to shapes which can be filled with color
• how to import your critter into Photoshop
• how to work with layers and layer effects in Photoshop
• how to create a simple background using Photoshop brushes
• how to manipulate typography in Photoshop
• how to finish your card and prepare it for final art
• how to create and use the mock-up
When you are done you can pat yourself on the back knowing you've taken the leap and started your journey to monetizing you art!
You will get the bonus of.
• over 50 minutes of direction from an instructor with tons of experience
• a Photoshop template to use for preparing your art to upload
• a Photoshop mockup complete with smart object, ready for your use!
• tons of tips, tricks and insider secrets!
At the end of this class, I encourage you to experiment with these methods, and then post to share your finished card as a project for this class. My vision is that we create a sharing space here where we can support each others' learning by participating in discussions and critiques. I would be happy to advise and give you my knowledge through these discussions. If you are new at creating greeting cards, this is probably the some of the most pertinent insight necessary to launch your creative greeting card design endeavours. So what are you waiting for? Start this course NOW!
Lesson 1
In this lesson you will learn about drawing your little character and scanning and preparing the template in Photoshop for use in Illustrator.
Lesson 2
In this lesson you will learn about setting up the document and creating illustrator brushes to prepare for inking.
Lesson 3
In this lesson you will learn about completing the brushwork and inking on our character with lots of Illustrator tips and tricks along the way.
Lesson 4
In this lesson you will learn about expanding appearance, compound paths and other tricky and hidden Illustrator challenges, and preparing for colorizing.
Lesson 5
In this lesson you will learn about the entire colonization of our character in Adobe Illustrator.
Lesson 6
In this lesson you will learn about the final card set-up in Photoshop including info about Photoshop brushes, Photoshop layer effects, color schemes and typography.
Lesson 7
In this lesson we will complete our layout with all the finishing touches like final layer effects, drops shadows, imported graphics, typographic glyphs and more.
Lesson 8
In this last segment you will produce a mock-up with your finished card using the mockup provided in the project files.
Concepts covered: scanning, photoshop, illustrator, illustrator brushes, expanding appearance in illustrator, compound paths, drawing reference, background, planning and designing your child's greeting card, industry trends for greeting cards, passive income, art publishing, art licensing, Photoshop layers and layer effects, arcing lettering in Photoshop, adding a stroke in Photoshop, mockup production and much more.
Download link:
Links are Interchangeable - No Password - Single Extraction